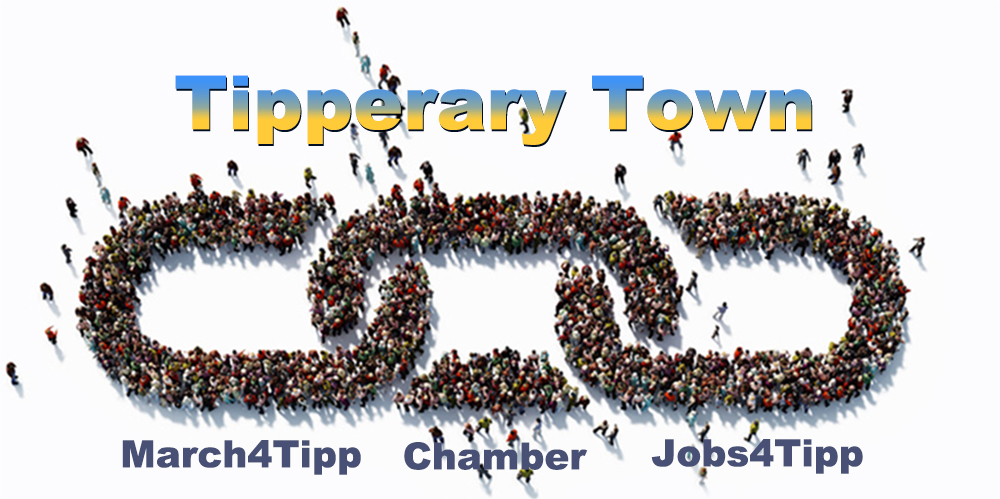 In a first-ever collaboration, Tipperary Town Chamber/TIRD, March4Tipp and Jobs4Tipp have joined forces to push for Ring Road for the town. Recognising that all political party and independent candidates are now canvassing for votes ahead of the General Election, the three groups are anxious to make the provision of a Ring Road a doorstep question for people to ask candidates about.
According to Transport Infrastructure Ireland measurements, the town has to deal with 50,000 traffic movements each week from the N24. There is additional traffic from the N74 Cashel road and from a number of regional roads that converge on the town, although traffic volumes on these roads are not currently measured.
Recently, March4Tipp conducted measurements of noise and air pollution along the N24 route through the town and recorded levels of noise, particulate (PM10) and Nitrogen Dioxide levels well above maximum World Health Organisation guidelines. The group says that the economic impact of the high volumes of traffic is also very serious, especially in how it affects the shopping experience in the retail areas of the town. The group cites difficulty in finding parking and long delays in driving into the town as disincentives to shoppers.
Councillor Annemarie Ryan of March4Tipp says that the traffic has to be diverted if the town and the community are to breathe and grow again. "We are told that a bypass is being proposed. However, a bypass was approved in 2000 and never built. This new proposal has our bypass in with 21 other bypass projects in the National Development Plan. We stand little or no chance of being picked out from that basket of projects and it would be 15 to 20 years before we would have one even if we were selected. Our town and our community simply can't wait that long. Our needs are urgent so we need a simpler and easier option to divert traffic around the town and that is a Ring Road that travels well outside the town" she said.
"Our retail sector has had to deal with all of the challenges for shops in rural towns all over Ireland. However, in our case, we also have to deal with enormous volumes of traffic that contribute nothing to the economic life of the town" says Shane Kelly, Chairman of Tipperary Town Chamber/TIRD. "The vast majority of vehicles are just passing through and deliver no spend in the town. All that the traffic contributes are noise and air pollution, as well as congestion and traffic delays. This makes it difficult for people to shop in the town and that has a major knock-on effect on the viability of shops and their ability to employ people. A Ring Road is needed now. A bypass would be great also, but we need something as an interim solution while we wait for a bypass. We are happy to be working with March4Tipp and Jobs4Tipp on making a Ring Road a reality for our town".
Seamus Clarke is Chairman of Jobs4Tipp, a group that has been working for over 5 years to attract employment to the town. "The traffic from the N24 is stifling the economy of the town. It is very difficult for businesses to grow and develop when the town is choked with traffic. We feel strongly that the town will be a much better place to do business if we can only get rid of the N24 traffic and a Ring Road is the only realistic way to do that. We also believe that a Ring Road would open up more development land around the town, something that would help to attract investment and jobs" he said.
The three organisations decided to try to meet with all General Election candidates to gauge what political support there might be for a Ring Road. Results from these meetings will be posted here and on social media.