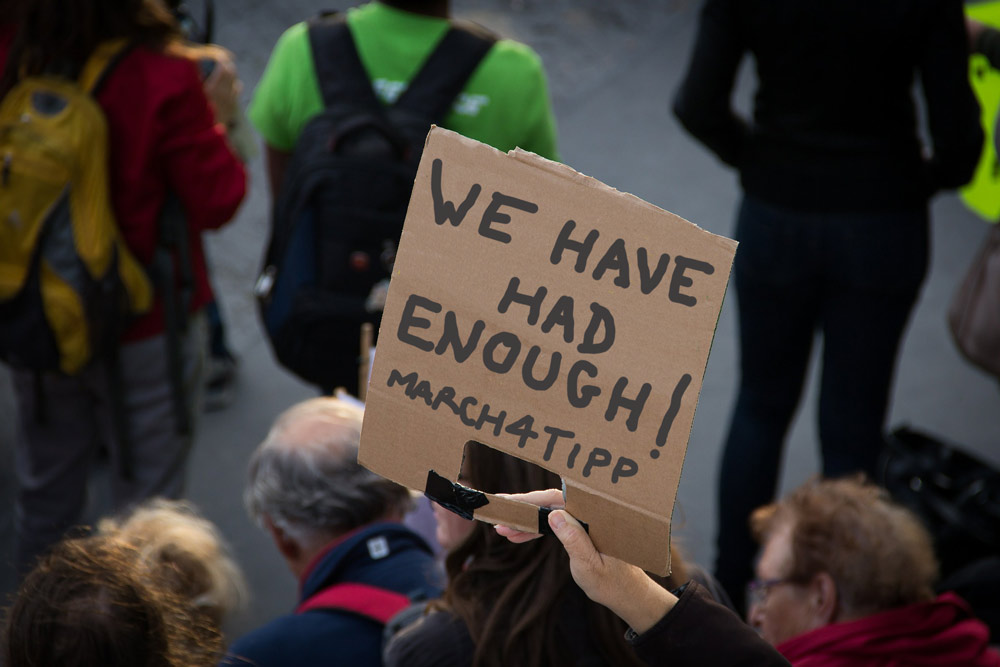 The group organising a campaign to stop the neglect of Tipperary Town have announced the date for the first protest march. They say that the action is not just about the roadworks, as the Council seem to think, but about the neglect the town has suffered over many years across a range of issues affecting the town.
Organisers have said that the first protest march aimed at getting political and official attention for the town will take place on Saturday 20th of October. A spokesperson for the group said they had noted the hurried response from the Council that attempted to explain the extended roadworks that would have the Main Street and Father Matthew street effectively under construction for up to 18 months. However, the group stressed that this is only one issue that demonstrates that the powers that be do not care at all for what the people of the Town think or want.
The group says it is preparing a list of demands that range across social, economic and infrastrucural problems that have arisen through government neglect at all levels. A spokesperson said "if you look at the way in which Tipperary Town has been treated, you will see a bypass that was approved in 2003, but is now not scheduled to even start. You see an unemployment rate in the town that is more than 4 times the national average. You see derelict buildings throughout the town, some of them owned by the Council. You see perfectly good applications for funding, that meet the criteria, being rejected; such as DEIS funding for our primary schools and the refusal by the Government to support the Canon Hayes Recreation Centre. When you look at the streets, you will see 21 closed shops between Bank Place and the Maid of Erin".
The group said that they are in discussions with a number of other groups in order to bring all of the major issues into the one protest campaign. "We want to deliver a rising tide that lifts all boats so this is about more that one issue, it is about all of the important problems we face because of Government neglect of our great town. This has to stop and we, the people of Tipperary Town and the surrounding areas have to stop it. We have to make them listen and we have to make them act", the spokesperson said.
Shops and other businesses will be asked to display flyers in their windows that read "March4Tipp" as a gesture of solidarity and support. The group said they hope that all community groups, clubs, schools and organisation will come out and march on the day. They also say they will be asking for volunteers to help with planning and organising the protests.